Mocha is a variation of caffè latte. It is made with espresso, hot milk and chocolate. Mocha is amed after a town in Yemen and can be prepared as iced coffee as well as a hot one.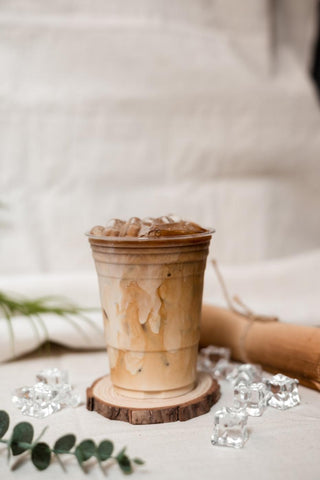 Ingredients:
1 cup (8 fl oz) espresso coffee
2 tsp brown sugar
¼ cup (2 fl oz) chocolate syrup
1 cup (8 oz) crushed ice
1 cup (8 fl oz) milk
Whipped cream for serving
1 tbsp cocoa powder
Instructions:
Make a cup of espresso coffee.
Add sugar and chocolate syrup to the hot espresso and stir well until they are dissolved.
Let cool for 20 minutes at room temperature or place the coffee in a refrigerator for 10 minutes.
Add cold milk to the sweet coffee and stir well.
Put crushed ice in two glasses.
Pour coffee mixture.
Top each glass with whipped cream.
Sprinkle with cocoa powder and serve with a straw or a decorative mixing spoon.