You can make a miracle drink with a banana, espresso and ice cream. The name of that miracle drink is "Banana iced coffee".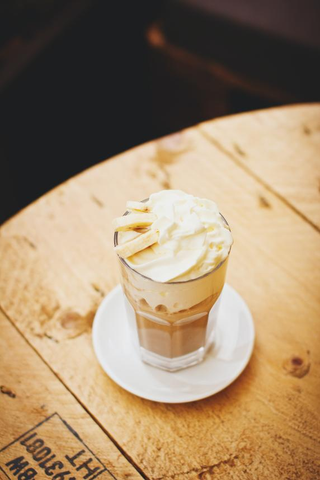 Ingredients:
1 ripe banana
½ cup (4 fl oz) espresso coffee
2 tsp caster sugar
1 cup (8 fl oz) milk
4 scoops vanilla ice cream
Ice
Shaved chocolate for serving
Instructions:
Make ½ cup espresso coffee.
Add sugar to the hot espresso. Stir well until sugar is dissolved.
Let cool for 20 minutes at room temperature or place the coffee in a refrigerator for 10 minutes.
Put 2 scoops of ice cream, coffee, banana and milk in blender or food processor and blend until smooth.
Put ice in two glasses and add the rest of the ice cream.
Pour coffee mixture.
Sprinkle with shaved chocolate.