|   SERVINGS:1    |   PREP TIME:15 min.    |   COOK TIME:5 min.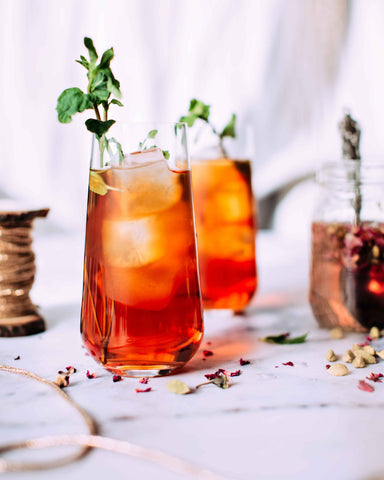 Ingredients
For the syrup base:
½ grapefruit, chopped into small chunks
1 slice orange
½ cup caster sugar
3 cardamom pods, lightly crushed
1 pinch coriander seeds
2-3 drops red food colouring (optional)
½ cup water
For the mocktail:
Ice, as desired
1½ Tbsp white grape juice
1 halved slice orange
Directions
Put grapefruit chanks, orange slice, sugar, water, cardamom and coriander in a saucepan.
Heat everything until it starts simmering, then cook for 5 minutes, crushing softened fruit pieces with the back of a wooden spoon as to release the juices.
Once all fruits have softened and white pith has faded, take off from heat and let it cool. Add red food colouring to the syrup if desired.
Once syrup is cooled, strain and discard fruits and spices.
Add ice in a tumbler and pour in 25ml syrup, grape juice and cold water each. Stir until the outside of tumbler is cold to touch, then decorate with an orange slice.