People usually make iced coffee with ice cream. Adding half-and-half cream can be a very good idea and will give your iced coffee a fresh light taste.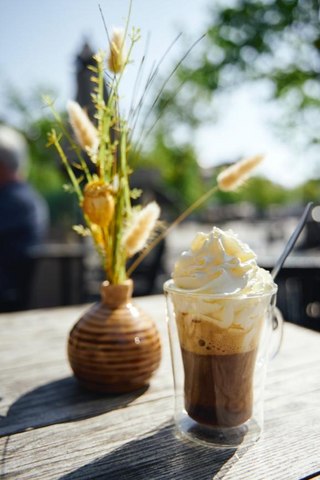 Ingredients:
½ cup (4 oz) espresso coffee
2 tsp brown sugar
1 cup (8 fl oz) milk
1 cup (8 fl oz) half-and-half cream
1 tsp cinnamon
Ice
Instructions:
Make ½ cup espresso coffee.
Add sugar to the hot espresso. Stir well until sugar is dissolve.
Let cool for 20 minutes at room temperature or place the coffee in a refrigerator for 10 minutes.
Add cold milk and half-and half cream to the sweet coffee and stir well.
Put ice in two glasses.
Pour coffee mixture.
Sprinkle with cinnamon and serve with a straw or a decorative mixing spoon.