Last summer, I went to New York. My daughter works there, and she lives in a small apartment.
 My life was a bit miserable because her mini fridge didn't have an ice-making function. After the food was stored, there was not much room for ice trays.
I drank iced water almost every day and sometimes iced coffee and soda.
Ice cubes were often in short supply, and I had to go to an ice store to get them. It's such a hassle.
This year, I purchased a EUHOMY ice machine before visiting my daughter. The reviews and price looked good. After receiving it, I think it is the perfect product for us. The size is very suitable; it will not take up too much space on the countertop and will freeze in minutes!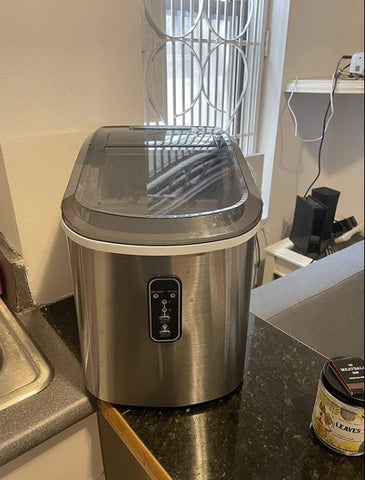 I now have a process for storing ice cubes too!
I purchased slide-on freezer bags. For your reference, a one-gallon bag can hold about 50 bullet ice cubes. After filling the ice, I seal it in the freezer to keep it clean.
When ice is needed, remove the gallon bag and tap on the ground to separate the ice cubes.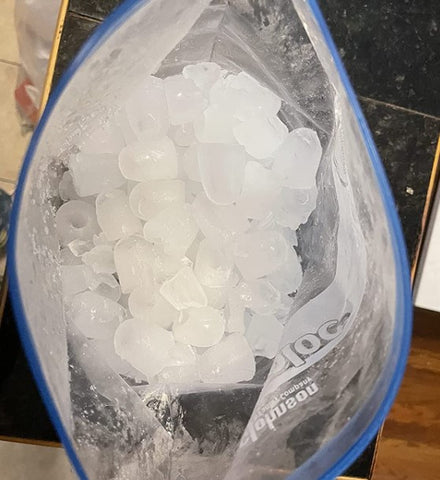 It makes two sizes of ice cubes, LG and SM. Large cubes can stay in drinks for a long time without melting. 
However, this ice machine itself does not have a refrigeration function. So when it's done a few rounds of icing, you can take the ice out and refrigerate as I did.
You can also leave the ice cubes in the basket if that bothers you. After the ice cubes melt into water, they will drip into the sink under the machine for the next round of ice-making.
We use filtered water, but you can also use bottled water. The whole ice-making process is easy and pleasant. It is very suitable for use when inviting friends to a party at home.
For me, this ice maker is indispensable in summer. I love it and hope it lasts a long time.
Author: GuacamoleGirl