As summer approaches, there's nothing more refreshing than a chilled beverage, but with a wide variety of ice makers available in the market, it can be challenging to decide which one to choose. How can you be sure you're making the right choice?
So, to help you make the best decision, we've created an easy-to-follow buying guide that provides advice on purchasing, as well as a list of top brands and products that meet your needs, so you can enjoy your cold drinks without delay.  
The things you should consider to ensure you choose the right one for your needs: 
Before purchasing an ice machine, it's important to understand that there are two main styles of stand-alone ice makers: traditional and clear/gourmet. To determine the perfect ice maker for your needs, it's important to consider your priorities. If quantity is your main concern, a traditional ice maker will suffice. However, if quality is what you're after, you'll need a clear/gourmet ice maker. 
While we will provide information on the basic features and types of ice makers, it's up to you to decide what factors are most important in order to produce the perfect cold beverage you're craving. 
Types of Ice makers
When it comes to ice makers, there are four different types of machines that vary in design and location. To choose the right one for you, consider the available space in your kitchen, garage, patio, or other location: 
Built-In Ice Makers / Undercounter Ice Machines: This type is designed to fit flush with surrounding countertops and cabinets, making it a great option if you need a lot of ice and ice storage. However, it does require a water line for operation and is typically larger in size. 
Freestanding Ice Makers: Similar in size and features to built-in models, freestanding ice makers are designed to be stationed within any location, such as a restaurant or commercial space. 
Countertop and Portable Ice Makers:A popular option for many people, these machines take up very little space and can be placed wherever you like. They are smaller in size and do not require a water line, making them easy to move around. 
Ice Maker Kits:For a more price-sensitive alternative, this type is designed to be added to any type of fridge, whether for commercial or home use. 
By considering the available space and your specific needs, you can select the right type of ice maker for your home or business. 
Types of ice
In the foodservice industry, the quality of the ice is just as important as the quality of the food and service provided. Customers often prefer small nugget ice over larger chunks. 
There are seven different types of ice to choose from, including:
Cube Ice: Amulti-purpose option that melts slowly and cools drinks quickly,
Half Cube/ Small Dice: Great for blended drinks and iced coffee,
Crescent Ice/ Half Moon Ice: Melts slow and cools drinks moderately quickly,
Clear/ Gourmet / Top-hat Ice: A slow-melting option that is great for sipping drinks like whiskey,
Nugget / Cubelet Ice: Melts quickly but cools drinks quickly as well, perfect for ice chewers,
Pearl / Bullet-shaped Ice: A common ice for portable machines,
Flake Ice:Ideal for keeping perishables cool and enjoying summer snow cones.
Knowing which type of ice you prefer can help you choose the right ice maker for your needs.
3 of the best ice maker machines on the market.
Price: $89.99 
Fastest Ice-Making: 9 Pcs Bullet Ice Cubes Ready in 6Mins / 26lbs ice per day 
Ice Type: Bullet Ice 
Environmentally Friendly: Yes 
Insulation Layer:Yes 
Other functions:Equipped with a convenient handle & Auto-cleaning 
Warranty: 12 months 
Euhomy is a reliable and cost-effective brand that offers a high-performance portable ice maker. The Euhomy ice maker can quickly produce 9 ice cubes in 6 minutes and easily make 26 pounds of ice per day. 
The countertop ice maker from Euhomy can produce the most popular bullet-shaped smooth ice cubes, which won't stick together easily and won't hurt your hands and mouth, making it the perfect choice for whiskey, cold drinks, frozen seafood, or iced coffee. 
Euhomy's ice maker features advanced infrared sensors that can timely flash the "add water" button to remind you to add water. Our ice maker is also equipped with an insulated layer made of thickened non-fluoride foam, which can block some heat and to a certain extent prevent ice cubes from melting quickly. In addition, our countertop ice maker comes with a convenient assembly handle that can meet the needs of any occasion such as home/kitchen/camping/RV/party/vacation. 
Most importantly, Euhomy's ice maker has a one-button automatic cleaning function. By adding water and pressing the "on/off" for 5 seconds, the ice maker will enter automatic cleaning mode. Euhomy is committed to freeing your hands in the best way possible, allowing you to have a clean ice maker.
#2 Euhomy Countertop Compact Bullet Ice Maker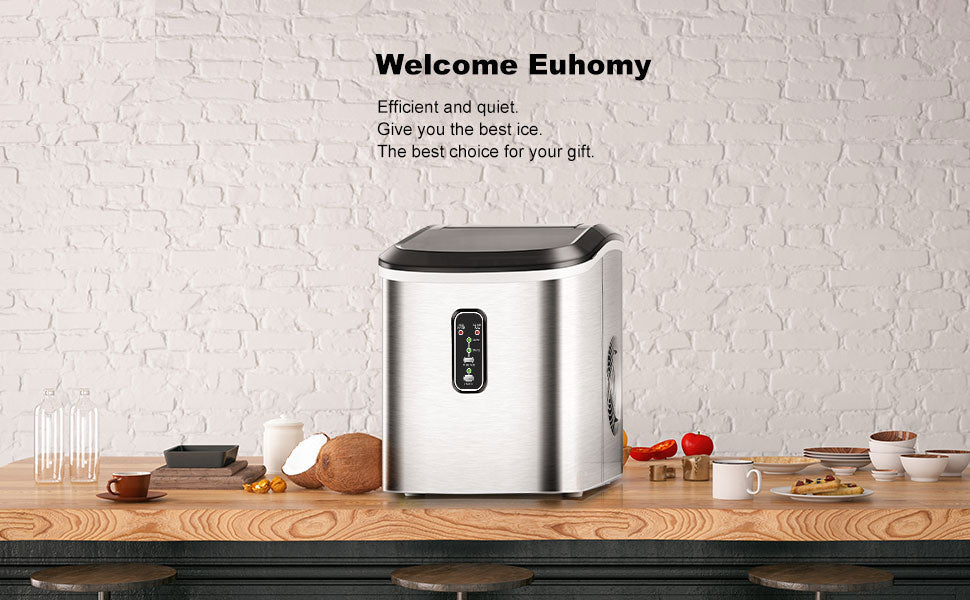 Price: $99 
Design: Stainless steel 
Fastest Ice-Making: 9 Pcs Bullet Ice Cubes Ready in 6Mins / 26lbs ice per day 
Other functions:Auto-cleaning 
Warranty: 12 months 
Environmentally Friendly: Yes 
Euhomy is committed to providing you with the best ice cubes, and our ice maker can produce 9 ice cubes in 8 minutes, with a maximum daily production of 26 pounds. Euhomy ice maker is equipped with a high-efficiency compressor, which not only has excellent refrigeration performance but also does not generate too much noise during the ice-making process. This ice maker also has a self-cleaning function, all of which are designed to allow you to enjoy ice and drinks in a quiet environment and free up your hands. Euhomy ice maker is definitely your best choice! 
Price: $339.99 
Fastest Ice-Making: 30lbs/day 
Design: Stainless steel 
Other functions:Auto-cleaning 
Warranty: 12 months
Environmentally Friendly: Yes 
When it comes to an ice maker, Euhomy's countertop model is the top pick. Not only can you savor the taste of your drink, but also the delightful chewable bullet ice produced by our high-efficiency compressor. Unlike traditional ice makers, Euhomy's sonic ice maker operates continuously and offers multiple benefits including super cost-effectiveness, self-cleaning capabilities, automatic water refill, and low noise. 
Conclusion
If you only need a small and portable ice maker, you can take a closer look at the three ice makers we recommend, which can fully meet your home ice-making needs.
However, if you need a large-scale ice maker, you can take a look at Euhomy's commercial ice maker. If you are interested in a car refrigerator, you can check the category.
Euhomy is the largest ice maker provider in the North American market and has a variety of products to meet your needs. Everything Euhomy Does Is To Satisfy You!