For sure, no one wants a messy kitchen, as we all want to enjoy meals made in a neat and clean place. It's a challenging job to come up with some decorating ideas for a kitchen, especially when it comes to a small one. It's understandable that you want to have all basic necessary compact kitchen appliances covered, even if it's a small one.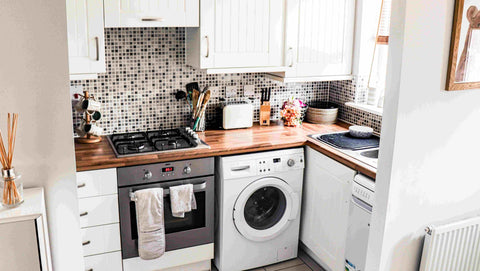 A compact household kitchen fridge, a small refrigerator, a portable beverage or wine fridge, an oven, a microwave, and so on should be added to your must-have kitchen appliances list. Since spontaneous party vibes are spreading around, household ice makers are gaining popularity among middle-class consumers.
Speaking of ice makers, it doesn't seem necessary to every family as you can make ice in the freezer for daily casual beverages. However, it brings you convenience if you got one at home whenever you want to throw a house summer party anywhere you want.
Before adding one to your shopping cart, here are a few tips listed below for inspiration:
Tip1: How Much Space Do I Have for An Ice Maker in the Kitchen?
Before finalizing the kitchen design, you will probably need to source an ice maker in the marketplace if you need to worry about space for it. In that case, a compact built-in ice maker is the way to go. To make more room for your kitchen decorating, compact freestanding or countertop ice makers would be an alternative option if you don't want to get involved with the built-in construction.
Tip2: How Much Ice Do I Need to Prepare for My Parties?
It appears that it is a question that would take us some time to figure out, but that would be a no-brainer if you have read our recent article with the universal formula for ice calculation and preparation for any type of party. Also, it seems to be the topic that most of us would easily forget to consider when buying an ice maker.
Tip3: How Fast Do I Need Ice Made?
Every question relates to another. It all depends on how large your party will be and how many types of drinks you want to serve your guests. In other words, from small house parties to large important events, more ice doesn't hurt.
With the 3 questions above in mind, there are a few recommendations listed for you to choose from:
· Small-sized party:
1. 26Lbs/24H Portable Compact Ice Maker Grey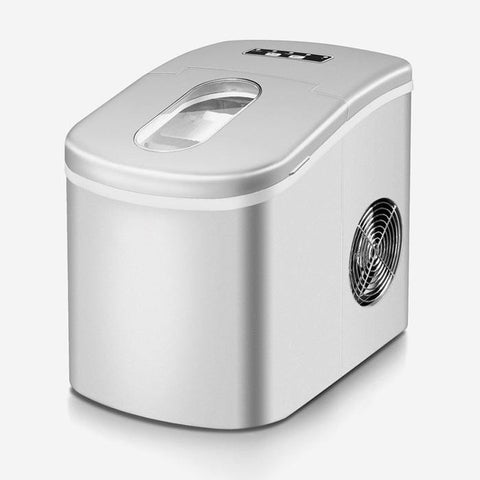 2. 26Lbs/24H Countertop Small Ice Maker Silver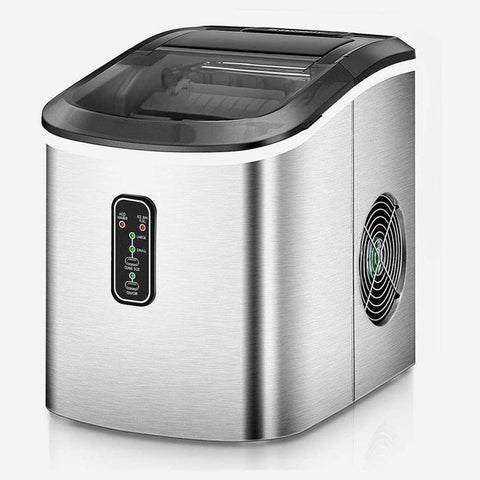 3. 26Lbs/24H Portable Compact Ice Maker Red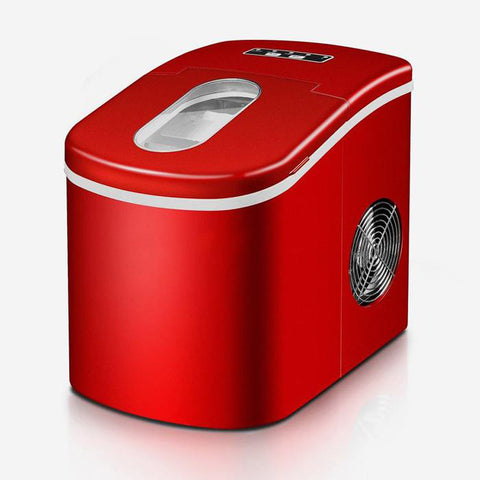 · Medium-sized party:
1. 40Lbs/24H Portable Compact Ice Maker Sliver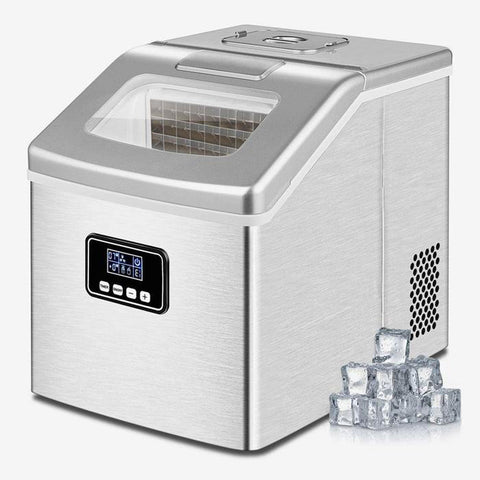 · Large-sized party:
1. 100Lbs/24h Commercial Ice Maker Machine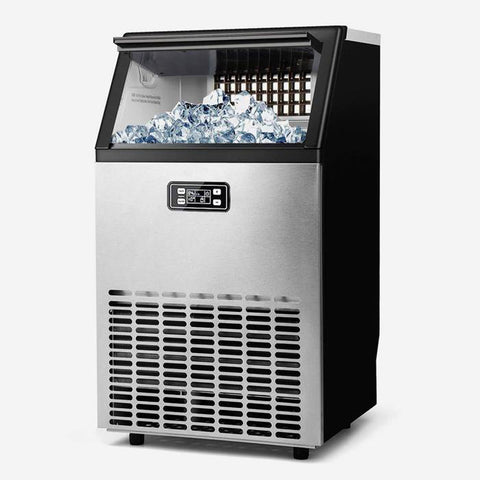 Tip4: What Color Do I Need to Match Other Home Appliances?
Nowadays, a featured product cannot meet our needs any longer in terms of aesthetics and styles. Although white, black, and silver are more commonly applied to small electrics and appliances, more and more brands are adapting to the market's needs. Similar to the fast-changing fashion industry, color matching has become one of the essential elements in picking a household appliance.
If most of your appliances are in basic colors, like white, silver, and black, it's less risky to go with the same or similar colorations to match the same style. On the other hand, it's not a bad decision to try some bright colors, such as red, to brighten up your kitchen. If you don't like it anymore after a few years, it's not a big loss to pick another to replace it.
Tip5: What Extra Features Should I Consider?
It's easy to ignore the other features that might bring us more convenience when we are happy with the basic features. It wouldn't be too much to pursue a perfect ice machine as we all expect it to make us easier to prepare a party. With this purpose in mind, digging into the details makes us sophisticated shoppers.
For instance:
Complementary ice scoop and removable ice basket:it is easy to clean, use, control, and transport; perfect for home, kitchen, office, bar, and other small businesses.
Transparent window:allowing you to clearly see the ice-making process without having to open the lid. Keeping the lid closed maintains the ambient temperature inside the machine, making the ice cubes fresher and tastier.
Circulating water tank:equipped with a water tank that recycles water in the tank, ensuring that no water is wasted.
High efficiency & Cooling system:the rear cooling system helps the machine cool down quickly, releasing heat to the air.
Tip6: What is My Budget for An Ice Maker?
The most common reason most people drop items from the shopping cart is because of their budget. It takes some time to pick a portable ice maker that meets all your requirements within the budget. It's quite common that most of us get lost while comparing a few options when we have a budget. From the perspective of the supply chain, the following elements usually affect the price of an ice maker:
Size
Capacity
Feature
Design
Color
Quality
Even though we don't want to lower our requirements in the vast marketplace, now we should be able to choose the best ice maker that matches our kitchen the most with the best price.
For more inspirations for small kitchen decorations, join our community and stay tuned.