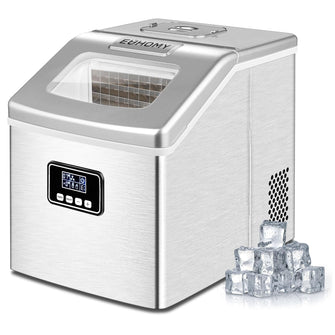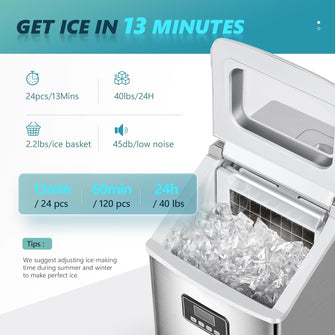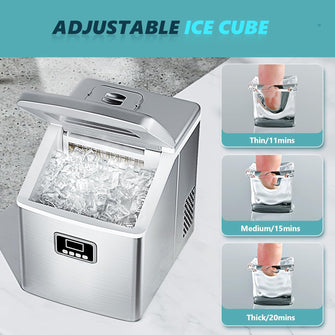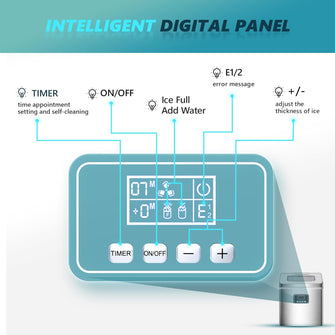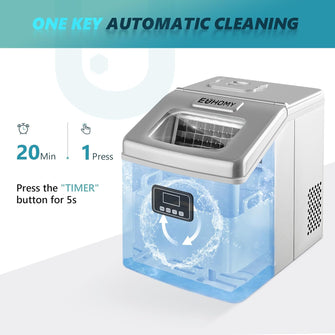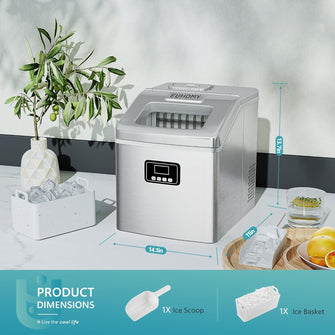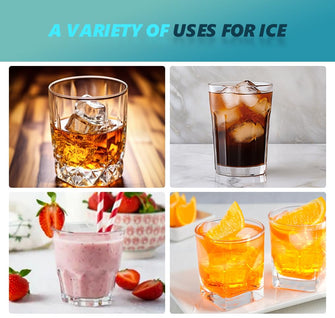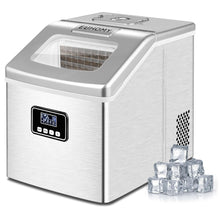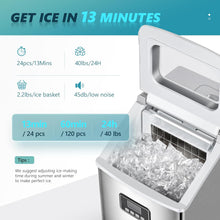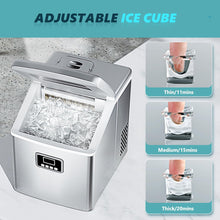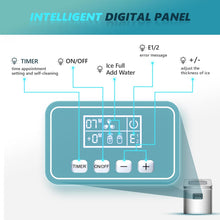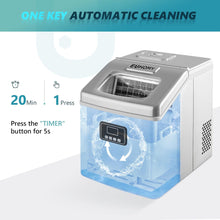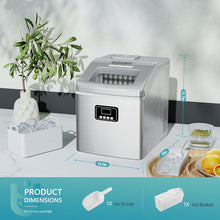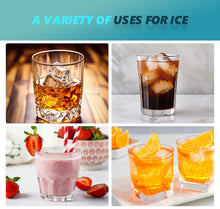 14'' Cube Ice Countertop Ice Maker
40lbs/day ice-making capacity: Make up to 40lbs of ice per day to ensure you always have enough ice on hand. Water recirculating: Conserve water and reduce waste with water recirculation technology. Advanced infrared sensor technology: Equipped with great sensor technology for precise ice-making and improved efficiency. 
40lbs/day ice-making capacity: Make up to 40lbs of ice per day to ensure you always have enough ice on hand.


Water recirculating: Conserve water and reduce waste with water recirculation technology.


Advanced infrared sensor technology: Equipped with great sensor technology for precise ice-making and improved efficiency. 
Super clear, long lasting, great taste.
Update August 15 2021 - Got shipped a new unit and got to my door in 3 days. Customer service replied within a day and was agreeable and helpful. Hopefully, the new unit will last longer than 4 months, the machine makes some of the best ice. 5 stars for the support, this company stands behind their product.Update August 11, 2021. - kept this thing clean like the instructions said, pump motor making loud noises and working half the time, no sign of sediment build-up or clogs. Contacted support, I will update the review after I see how that goes.Super clear ice, the advertised time is what it takes to make the ice. The ice melts so slow that it will last longer in the glass than my drink, I am having to refill it and drink more because of it. Makes super clear and tasty Ice. Hookup was easy, the unit gets filled from the top and it is pretty much automatic out of the box. My fridge is louder, this thing is fine, can't hear it at all over ambient noise. My unit came with a huge dent that got passed inspection, the protective film is still on the unit and the box it was shipped in was intact. I like it so much I did not want to return it having to wait for another unit, but I am giving it a lower rating because of it.
Ice Maker
Did not realize it was going to be quite as big and heavy. Instructions are okay, but not enough detail. Took a lot of time for unit to start working systematically - but...Once warmed up and working - ice maker started making ice and dropping it in the bin. Only thing I do not like about it, the ice stays all in one and does not separate into cubes - you have to do that yourself.
New one works great!
Update to review: as noted, first one did not work at all. Sent it back, got a refund and bought a new one. New one works GREAT!! Totally quite, makes a TON of ice pretty quickly. It's cool little square Ice like in a hotel that everyone loves. First time you turn it on it takes a few extra minutes to get ice but then it cranks it out. We put in ziplock bags in freezer then break up before putting in our normal ice bin, bc the ice is a bit "wet". The 4 stars is bc the first one didn't work. Otherwise it'd be 5. We love it!!Original review: Bought as a Christmas gift. Followed all directions, even let sit upright for 48 hours to ensure coolant settled from shipping. Just ran and ran for 30 minutes. Cooling unit didn't cool. Tried again. Ran 30 minutes, no ice and got error message - which in the instructions indicates a sensor issue and to 'instruct to call repair individual'. Yeah, lots of those running around for a brand new unit made by Euhomy. Maybe we got a lemon? most reviews were positive which is why we bought, but made in china with broken English instructions so there's that. Do not waste your time with this product based on our experience.
Great Ice Maker
I've used the ice maker twice, once to test and clean and now to make actual ice. I didn't time the initial batches but it's about 10-15 minutes. Then it just starts cranking out ice. The cubes are clear and solid...much better than what comes out of my $5k Samsung fridge! The cubes are kind of hard to separate but I think I can use the + / - option which regulates the freeze time to make them easier to break apart. The only issue so far is what to do with the leftover water. You need to unplug a drain on the back of the machine and wait while it slowly drains. You could leave the water in there until the next time you use if but I would be afraid of mold/mildew or bad tasting ice if left too long. The instructions are very poorly translated from Chinese but luckily operating the device is pretty straightforward.
Works Well!
This is the exact same unit as the Frigidaire, they just changed the control panel a bit and put it on the front. Curiously, this unit is $40-$50 more. I had some issues with a lost package and then the Frigidaire was on back order so I ordered this unit. Then they both arrived within a few days of each other. My main complaint is that if you have cupboards above the unit you cannot fill it with water without pulling it out from under the cupboard.Also as the heat is rejected out of the back through the refrigeration process the unit needs good airflow around it otherwise the process becomes less efficient and the ice making takes longer. This is why the control panel displays the ambient temperature around the unit..you will see it rise as the unit rejects the heat. Without good clearance, the unit becomes less efficient (as all refrigeration systems do). 40lbs a day may be achievable if the unit is outside in 40 degree weather.The internal ice bin can only hold about 4 batches so unless you're dumping it into your freezer you're not going to make tons of ice because it will shut off when the bin is full (as expected).I fill it with RO water from our system. The ice cubes are clear and dense which are great for keeping drinks cold. If I need to make a bunch of ice I empty the bin into 1 gallon Ziplock bags and store in the freezer. Because the ice is kind of wet it will freeze together a bit in the bags but it's easy to break up by hitting the bag on the counter.I do recommend these units regardless of which one you get. We use a lot of ice and always seem to run out at the worst time! Ice is cheap to buy ($2.50 or less for 10lbs) but I hate running out to get it.
Excellent Product and Customer Service
Originally received a damaged item however packaging was not damaged. I think my first order was a returned item and this company attempted to get rid of their returned item by sending it to another in hopes that I wouldn't complain about it. The company that mailed me my order was by HomeMark..I received amazing customer service from the actual company Euhomy. I sent them pictures of the damaged item as indicated when I opened my package and they responded in less than 24 hours and sent me a replacement right away! This item can be quite HEAVY if you're a short lady and not an athletic person like me. My item was so damaged, Euhomy didn't even ask for it back. My new Ice maker came in perfect condition and the ice maker is working great so far!Customer service 5 StarsNoise Level sounds just like my refrigerator so I can't even tell it's on.The instructions has simple grammar issues but nothing you can't understand.Very Easy to Use.There is no heat issues.My ice is coming out clear to frosty depending on the settings you choose.FOLLOW INSTRUCTIONS and everything should go well! :smiley face:
Very Happy
I've now owned this for 6 months and am very happy with the performance and the ice. We're on well water in central Texas and it doesn't make good drinking water or ice so the refrigerator ice maker isn't even turned on. For years we simply bought bagged ice. Now we use bottled water in this machine and have ice all the time. Refilling water is maybe something we do every other day....not a constant bother at all. The ice is "wet" and I thought this might be an issue but it's not....not even in soft drinks. Regarding noise....we're not bothered at all. Others could be. This is going to be largely dependent on where it's located in your home/kitchen. Occasionally the unit will try to make a really thick ice "block". There's a feature on the unit that allows for the "purging" of a block like this. Alternatively, just shut the unit off till the "block" melts and falls into the ice basket. One of the best features is that ice-melt is recycled so no waste. Highly recommended!
Very silent
I'm so happy that I bought this ice maker machine. It works wonderfully with no noise. It's a little long at the beginning when you turn on the machine but after the first drop, it's very fast and silent. I bought it because the ice maker of my fridge doesn't work anymore. Very good machine.
Look elsewhere
Pretty much does everything wrong, and opposite of what is advertised